McCormick Methodist Women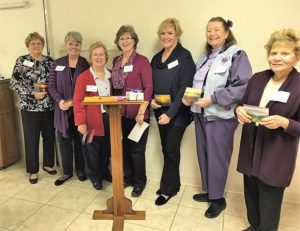 Officers
Sue Yerdon – President
Tina Sims – Secretary
Connie Tremsky – Treasurer
Lindy Stahlman – Spiritual Growth Coordinator
Emilee Groh – Program Resources Coordinator.
Linda Kidd – Greenwood District Liaison
Purpose: McCormick Methodist Women (MMW) shall be a community of women whose purpose is to know God and to experience freedom as whole persons through Jesus Christ; to develop a creative, supportive fellowship; and to expand concepts of mission through participation in the global ministries of the church.
PREVIOUS EVENTS
Women's Annual Winter Dinner Meeting on January 19
The hostesses for the evening did a great job of decorating, welcoming and cooking! Thank you to Linda Kidd, Shannon Stewart, Lindy Stahlman and Sue Mickel for delicious Corn Chowder and the cheery atmosphere! I don't believe there was too much of that chowder left over!
Gay Forney did a great job in delivering the devotional. She spoke on Gifts that Keep on Giving! Gay's gift is obvious to us now, she shares God's lesson with insight and love, which makes for thought provoking moments among those in attendance!
The guest speaker was Marcia Miller, Treasurer of the Greenwood District United Women in Faith. She explained the pledge cards and talked about the areas that receive the funds. We appreciated Marcia taking the time to drive to our meeting and share about the missions we are funding.
Don't miss out! Add Thursday, April 20 to your calendar right now! That is the date of the next MMW dinner meeting. The committee of Ingrid Fuller, Sundee Luedecke, Barb Shelley, and Carol Tummons will be ready for you and your guests!
Photos from the MMW Annual Winter Dinner Meeting on January 19, 2023
McCormick MMW Fall Dinner Meeting
There were 35 in attendance at the MMW Fall dinner meeting on September 2. Since it was the first meeting in 18 months, everyone seemed excited to be together. The meeting's theme was Sea You in September! and the decorations put you in a restful, beach atmosphere. The women of the church would like to thank Ron Hutto for the two churns of delicious homemade ice cream he contributed as a wonderful finish to their salad meal!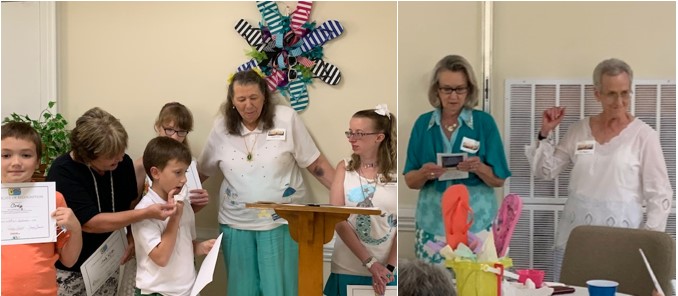 (Left Photo) During the meeting, participants in the 2020 MW Reading Program were recognized. Emilee Groh, Program Resources Coordinator, presented certificates to Cody, Trely Wolfe, Grayson, Dani, and Jessica Kidd. Each participant read 5 books, and they have also participated in the 2021 Reading Program. (Right Photo) As everyone sang "Praise the Lord" to the tune of "The Twist", Dot Baggett demonstrated the popular dance from the sixties!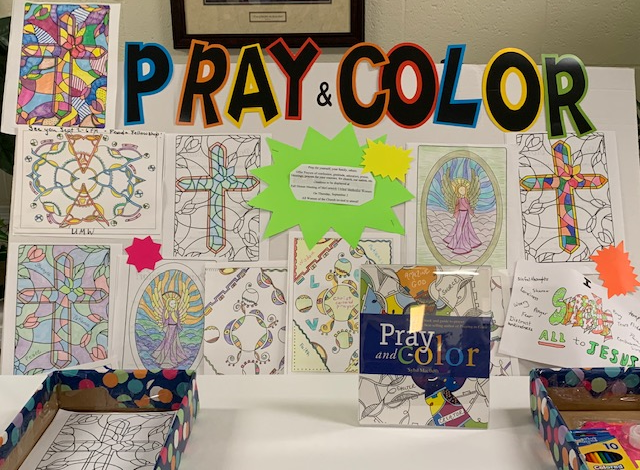 A special emphasis at the meeting was the rendering of the ladies' participation in a Pray & Color project. The project is named for the book by the same name in the MMW Reading Program. This project was a way of giving women of the church the opportunity to work together separately during a difficult time when meetings were not possible. There were 14 participants and their finished project is now on display on the MMW bulletin board. Thanks to all who participated!
MMW DINNER/MEETING
PROGRAM ON WORLD DAY OF PRAYER March 6 11am at MMC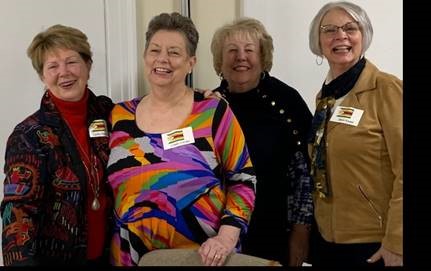 The food was wonderful.. homemade soups and salad.. and of course, dessert!
Lindy Stahlman did the devotional, and Jeanne Thornburg led us in song.. songs that will be sang at the World Day of Prayer on March 6.
Cathy Osterman, Linda Crochet, Mary Tobin and Sherri Kumle (all from different McCormick churches) did a presentation on the history of the World Day of Prayer (WDP) and what they are planning for the one to be held at MMC on March 6. They are looking for a few decorations. If you happen to have any from your travels to Africa, please contact Lindy Stahlman.
The World Day of Prayer (WDP) is a global movement, led by Christian women, who welcome you to join in prayer and action for peace and justice. It is celebrated in over 170 countries on the first Friday in March.
The host country for WDP 2020 is Zimbabwe. The WDP 2020 program is based on Jesus' encounter with a person who, although positioned for healing, had not acted upon the opportunities given (John 5:2-9a). Jesus asked –"Do you want to be made well?" with the theme "Rise! Take Your Mat and Walk". You are faced with this life-changing question. What are you going to do?
Annual Men's & Women's Fall Dinner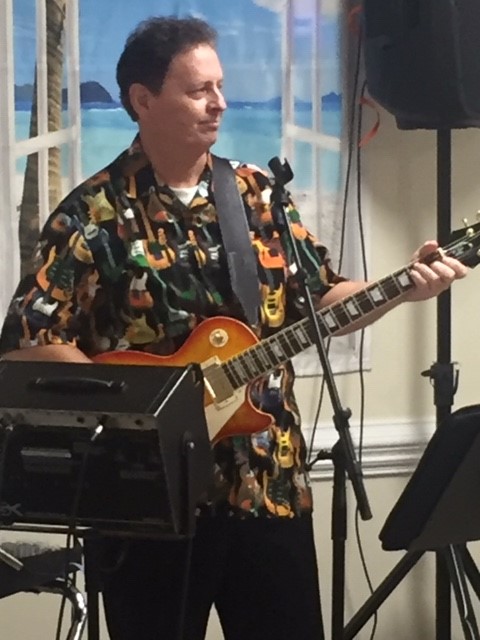 There were 55 in attendance at the Annual Men's & Women's dinner on Thursday, October 17. Welcoming greetings were given by Bob Rennie, Men N Ministry President and Jeanne Thornburg, MMW President. The theme was "Lost in the Fifties", and Lindy Stahlman gave a very thought-provoking and inspirational devotion that stirred the minds of those in attendance to remember years prior to the 1950's, and conversation was encouraged about memories of the dates from the 50's posted at each table. A delicious meal prepared by Chefs Don Tummons (and Carol) and John (and Sue) Yerdon was served cafeteria style. A wonderful program of Christian beach music was then presented by Larry Freeland. Following the presentation, Larry and his wife Linda handed out free CD's to all present. We were glad that Larry's mother, Hazel Freeland, could join us. Larry shared with the audience that he had prostate cancer surgery in August and that this was his first performance since that time, giving all of the Glory to God for his recovery and ability to be with us. He not only did this through his testimony, but with his powerful music as well. Larry and Linda sent this electronic message back to McCormick MC at 10 o'clock that evening: "Thank you all for allowing us to join your Women's and Men's Ministry Dinner tonight. We had a wonderful night of fellowship, food, and music. The people at McCormick MC are so welcoming and encouraging, and we enjoyed every minute. It was so much fun to be "Lost in the 50's". We certainly appreciate all the prayers of your people. May God bless you all." – Linda and Larry Freeland