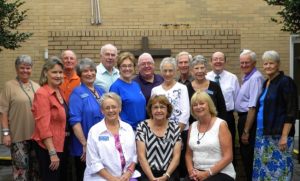 PICTURED BACK ROW – RONNIE KIDD, LARRY REAM, DON TUMMONS, PHIL BAILEY, REV. PAUL WOOD, AND AUGUST LUEDECKE. MIDDLE ROW – LINDY STAHLMAN, LINDA KIDD, JEAN THOMSON, TONI GRAHAM, CAROL BAILEY, MARILYN MEYER, AND BEVERLY WESTERN. FRONT ROW – SUNDEE LUEDECKE, REV. KAY WOOD, AND CAROL WIEBOLDT. NOT PICTURED – NANCY TUTT AND ROSEMARY PETTUS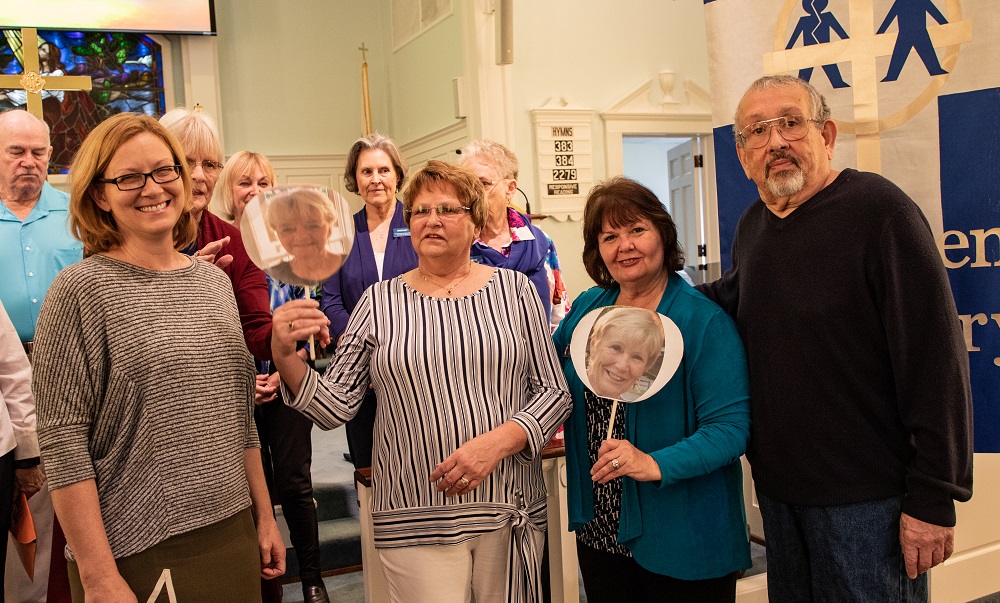 Sunday, March 31, 2019, was a joyous occasion at McCormick Methodist Church. Six new Stephen Ministers were commissioned! The Stephen Ministers commissioned were Fred Fuller, Shannon Stewart, Trely Wolfe, Sue Yerdon and, though not physically there, Barb Shelley and Susan Wurtzbacher.
Stephen Ministry is a lay ministry program that trains lay people to provide one-on-one Christian care-giving to individuals in crisis. Started at McCormick Methodist Church in 2005 by Beverly Western, the ministry cares for people dealing with a variety of life crises and/or transitions including, but not limited to … loss of a loved one, divorce, illness or illness of a loved one, family difficulties and relocation adjustments. During these times people can receive great benefit from a caring, Christian, totally confidential relationship with someone who will faithfully listen, empathize, pray with and for them, and offer them the encouragement of Christ's love and care. It is NOT counseling. The role of the Stephen Minister is to listen and care — NOT counsel and advise. Stephen Leaders and Stephen Ministers are reminded often that while they can be "care-givers", only God can be the "cure-giver."
All Stephen Ministers have received 50 hours of training before being commissioned and assigned a care receiver. They then continue to receive ongoing education and peer support twice a month.
You'll find Stephen Ministry in congregations from more than 160 Christian denominations, across the U.S. and Canada and in 29 other countries. Stephen Ministry is built to last—going strong for over 20 or even 30 years in hundreds of congregations.
Since Stephen Ministries was founded in 1975:
More than 70,000 pastors and lay leaders from those congregations have been equipped at Leader's Training Courses.
More than 600,000 laypeople have received Stephen Minister training.
More than one-and-a-half-million people have had a Stephen Minister to walk with them, providing one-to-one Christian care during tough times.
The program serves both the congregation of McCormick Methodist Church as well as the surrounding community. You do not need to be a member of the church to have a caring relationship with a Stephen Minister. If you have any questions or would like to learn more about the program please contact one of the Stephen Leaders Pastor Nels or one of our Stephen Leaders – Beverly Western, Sundee Luedecke, Ronnie Kidd, or Don Tummons – or simply call the church office at 852-2394.